Discover the Things to do and See in the Ancient Bwindi Impenetrable Forest, a UNESCO World Heritage Site. A park proclaimed as "the Most Beautiful Place in the World" by CNN Travel. Most importantly to most, Bwindi Impenetrable Forest is home to the most Mountain Gorillas in Africa. Home to most Habituated Gorilla Families that can be visited. It is, without a doubt, the Premier Mountain Gorilla Destination in Africa.
The only Park in Africa Chimpanzees and gorillas coexist in the same Park. Home to other Primates, Forest Elephants, and rare Birds not found elsewhere. Foremost, Bwindi Forest National Park is Gorilla Country with over 400 Gorillas that live there and are thriving because of sound Conservation Practices.
Bwindi Impenetrable Forest is Gorillas and more. Most Visitors do not discover the more to the Park since they focus on Gorilla Trekking.
They miss the Hikes, Climbs, Biking, Birding, intercultural visits, to name a few. The ancient ForestForest offers many things to do and see – Discover that the Forest is not so impenetrable, but a place of Discovery like no other in East Africa.
CNN picked Bwindi Impenetrable Forest if May 2017 as one of Africa's 5 Best Parks. Lonely Planet Picked Bwindi Impenetrable Forest as one of the most unusual Honeymoon Spots in the World.
Bwindi Impenetrable Forest National Park is one of the most visited parks in Uganda – the reason –over half of the mountain gorillas remaining in the World live here – and the good news is that they are thriving and growing in numbers. According to the last Survey – there are 400 Mountain Gorillas plus in Bwindi Impenetrable Forest, and here is some practical Visit Bwindi Impenetrable Forest – Information – Tips – Advice.
Most visitors who come here, come for Gorilla Trekking, there is however much more to this ancient – primeval Rainforest – this is a UNESCO World Heritage Site.
You can spend a few days in and around Bwindi Impenetrable Forest. It is one of the most fantastic places in all of Africa – not to be found elsewhere – Bwindi Forest is unique, and it has much more to offer than the magnificent Mountain Gorillas.
Bwindi Impenetrable Forest is one of the oldest Afro-Montane Forests in East Africa. It survived the earth's shift that created the Albertine Rift that is all around it. It is thought that Bwindi Impenetrable Forest may have been inhabited 370,000 – 400,000 years ago by the Batwa People, the original people of the Rainforest.
Due to its age, one can see plants and trees here that are not found elsewhere. Bwindi Impenetrable Forest is a hidden pearl in Uganda awaiting to be discovered by you. However, many come here. The focus is on gorilla tracking; the magic and wonder of the ancient Forest are not to be missed. This 128 square mile park has much to offer – there are many activities that one can partake in, fantastic scenery, plants, wildlife, birds, primates, the list is endless.
Bwindi Impenetrable Forest is one of the most bio-diverse forests in Africa with one of the best ecosystems on the Continent.
Here you can find 160 species of trees, over 100 species of ferns, over 1000 flowering plants, and Afro-montane vegetation that is simply incredible. It is located in southwestern Uganda and some of it along the border with the Democratic Republic.
Bwindi Impenetrable Forest is the source of many rivers. There are pristine creeks, waterfalls, sights beautiful to behold.
The Bwindi Impenetrable forest is at the edge of the Western Rift Valley in the highest part of what is referred to as the Kigezi Highlands. The altitudes of the park range from 1,190 to 2,067 meters, though Bwindi has a tropical climate that can range from 7 degrees Celsius at night to 27 degrees Celsius during the day.
In Bwindi Impenetrable Forest, you can find over 120 species of mammals, including Forest Elephants (hairier, smaller, smaller tusks, one extra toe on each foot), small antelopes such as Duikers, Bush pigs, Giant Forest Hogs, several small species of Cats and various primates.
---
Primates are in abundance, including Black-and-White Colobus Monkeys, L'Hoest's Monkeys, De Brazza Monkeys, Red-tailed Monkeys, Blue Monkeys, Potto, Demidoff's Galago, Spectacled Galago, Baboons, Chimpanzees.
Chimpanzees are found here but are rarely seen. It is estimated that there 300 to 400 of them. They have not been habituated here and are seldom seen. They are not tracked here for conservation measures since following them would put more activity into the Park aside from Gorilla Trekking.
Bwindi Impenetrable Forest is a Birder's Paradise with 348 species of birds, including the African Green Broadbill and Shelley's Crimson-wing. Other birds found here include the Francolin, Cinnamon-chested Bee-eaters, Green Tinkerbird, Mountain and Yellow-streaked Greenbuls, Mountain Masked, and Chestnut –throated Apalises, Red-faced Woodland Warbler, White-browed Crombec, Ruwenzori Batis and White-tailed fly-catcher and others..,
Two hundred twenty species of butterflies, 27 species of frogs, chameleons, geckos – there is simply a lot to Discover awaiting you in Bwindi Impenetrable Forest.
---
Here are the 10 Top Things to Do and See in-near Bwindi Impenetrable Forest:
Bwindi Impenetrable Forest is broken down into four regional areas.  The best known was also the first Area for Gorilla Trekking – Buhoma is in the northern region of the Park, 45-minutes away is Ruhija. In Southern Bwindi Forest, there are two areas, Nkuringo and Rushaga.  The southern regions are easily accessed from Rwanda and a scenic 4-hour plus drive from Kigali, Rwanda.
1. Gorilla Tracking – the number 1 activity in the Park:
Bwindi Impenetrable Forest is best known for Gorilla Tracking, that is the reason that most visitors come to this Park.
Bwindi Impenetrable Forest provides an incredible backdrop for this once in a lifetime adventure. There are four trailheads from which one tracks one of the gorilla families for which we have obtained permits for you.
More Gorilla Families have been habituated for visitors. That means that there are over 100 daily gorilla permits available in Bwindi Impenetrable Forest.
Be sure to wear the right clothing for the trek and bring the things needed.
Bwindi Impenetrable Forest is the best Safe, Secure Park in Africa for Gorilla Trekking – plus the added benefit of lower permit prices.
---
2. Gorilla Habituation Experience in Rushaga- More Time with Gorillas:
It is only in Uganda that you can be with a Mountain Gorilla Family for 4 hours on a Gorilla Habituation Experience. You are accompanied by researchers in Bwindi's Impenetrable Forest – this fantastic experience – to be with a Mountain Gorilla Family as it is being habituated is a one of a kind experience in Africa.
There is presently one family group being habituated, meaning that they are becoming used to human contact and will not run away from visitors trekking them.
You can fly into Kigali Rwanda and 4 hours later be in the Rushaga Region of Bwindi Impenetrable Forest. You have the choice of quality moderate and upmarket lodging and can stay either in Rushaga or the scenic Nkuringo area of Bwindi Impenetrable Forest.
The Gorilla Habituation means fewer Participants, more Time with the Gentle Giants of the Forest.
---
3. Other Primates you see in Bwindi Impenetrable Forest:
Most often, while Gorilla Trekking in the Park, you will see other primates. Chimpanzees are here, their shrieks might be heard on occasion, but they are rarely seen around Cuckooland Lodge in the Ruhija area of the Park. You will most likely see Black and White Colobus Monkeys while trekking Gorillas o hiking in the Forest.
There are no scheduled nocturnal Walks in Bwindi Forest at present. It means that you will miss the Nocturnal primates such as the Potto and the various Galago Species unless you see them near your lodge.
You might see L'Hoest's Monkeys, De Brazza Monkeys, Red-tailed Monkeys, Blue Monkeys as you trek through the ForestForest. All such sightings enhance your time with the Gentle Giants of the Forest.
---
4. Cultural Encounters with the First People of the Forest – the Batwa: 
The Batwa People – are pygmies and were the first inhabitants of years, they were hunter-gatherers and lived in the forests of Southwest Uganda and beyond. They left a small ecological footprint on the Forest and lived in harmony with nature. Conservationists insisted that they were evicted from their traditional home, the Forest. In those days, they had no voice, no representation – the existed as squatters, beggars, accused of being drunkards, marijuana smoking, lazy people.
Today various organizations have given them a voice, defended their rights as first people, improved their living conditions, medical care, education, and more.
The Batwa Experience in the Buhoma area and the Buniga Forest Walk, near Southern Bwindi, give you a glimpse into the lives and traditions of the Batwa Pygmies.  It also restores a bit of their dignity and keeps their cultural practices alive to be passed on to future generations.
---
5. Hiking through Bwindi Impenetrable Forest:
The Hike through Bwindi Impenetrable Forest tales one day, or The Hike takes you from the north of Bwindi to the South tp Nkuringo. There you can stay overnight and continue the next day down to scenic Lake Mutanda where you paddle across in a wooden dugout and proceed to the town of Kisoro.
It is the most popular Hike along two trails of Bwindi – there are. However, there are other trails and nature walk. Most are from easy to moderate endurance wise. They are located in and near the forest. Meaning that can be explored on foot and require from an hour to all day long.
Hiking through the Bwindi Impenetrable Forest is always with a guide. The through the Bwindi Impenetrable Forest Hikes have become more popular over the last few years, especially with those who choose to trek gorillas twice, once in Buhoma and once in the South of the Park.
This Hike incurs daily Park Fees and Guide Fees per person
---
6. Hikes and Trails in and around Bwindi Impenetrable Park:
Not only can you hike through the ForestForest, but there are also many hikes and nature walks in and outside of Bwindi Impenetrable Forest that match various fitness levels.
Trails can be found in Buhoma, Ruhija, Rushaga, and Nkuringo. Some of the are birding hikes, while others focus on the scenery of Bwindi Impenetrable Forest.
The Hikes and Nature Walks can be added on to your Gorilla Trek or gorilla habituation experience in Bwindi Impenetrable Forest.
Let us know at the time when you plan your safari with us about your hiking plans.
Note: Hiking within Bwindi Impenetrable Forest incurs a daily Park Entrance Fee plus Ranger Guide Fee per person. Hiking Trails outside of the Park have only Guide Fees for the day.
---
7. Birding in Bwindi Impenetrable Forest:
Visit Bwindi Impenetrable Forest. It is one of the prime birding destinations in Africa. There are over 347 species of forest birds recorded in the Park, at least 70 out of 78 montane forest bird species occurring in the Albertine Rift region are found in the Forest, and 22 of the 36 endemic species in the area.
Bwindi Impenetrable Forest has been picked as Africa's Number One Birding Site, where you find many species endemic to the ForestForest.
Now visitors come from far and wide to spot some of Africa's rarest birds, and at the same time, they can track the Mountain Gorillas, and they enjoy other nearby prime birding spots.
Bwindi Impenetrable Forest – a top Birding Destination in Africa
---
8. Mountain Bike Rides – Buhoma and other areas of Park:
Ride 4 a Woman which is a community support group offers mountain bike rentals and guided bike in and around Bwindi Impenetrable Forest in the Buhoma area of the Park.
You can do the Village Walk on a bike with a guide. There are Birding Bike Rides, or merely a ride into the Forest, such as the Ivy River Trail. The average Bike Ride is 3 hours or longer with much to see along the trail or road.
The guides are all well-trained. Some specialize in birding, others in culture, but all know Bwindi Impenetrable Forest, which they all love and want to conserve.
Please Note: The Buhoma area provides the best Biking Experience. Unfortunately, there no organized biking experiences in the other areas of the Park. A few lodges have added biking as available activity in the different regions of the Park.
---
8. Village Walks such as the Buhoma Village Walk:
Here you have a 3-hour cultural walk through the village – you learn the ways and culture of the people that live in the Buhoma area on the edge of Bwindi Forest. The Village Walk is with a local guide who is friendly and knowledgeable about local culture and customs.
You will see how people make local crafts such as baskets with the most intricate designs – beer made from Bananas, and a distillery that makes the local Waragi Gin from Bananas, meet a traditional healer and learn of what is gathered in the ancient ForestForest and how it is taken and applied to ailments – you will be amazed –
See how the growth of local produce is done and harvested, food preparation over charcoal or open fire, visit a school, and meet the Batwa Pygmy community as they dance for you, to name a few. It is undoubtedly a cultural learning experience, and the cost of the walk supports the local community – so a win-win for everyone. (3 hours in length and difficulty level is easy – Location – Buhoma Area) gorilla habituation experience in Bwindi Impenetrable Forest.
Please Note: Each of the 4 Areas of the Park has a Village Walk, the Buhoma one is the oldest. The Nkuringo area is a close second, and you can also do a Village Walk in the Rushaga and Ruhija Areas of the Park.
---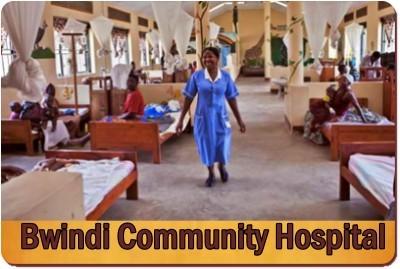 9. Bwindi Community Hospital – one of Uganda's Best Rural Hospitals:
The Bwindi Community Hospital is located in the Buhoma Area. One reason that this hospital is on the cutting edge of Medical Care is that it is supported in part by donations that Gorilla Trekkers have made.
The hospital gives excellent care, including Dental and Sight care. The infant mortality rate in the area has been dramatically reduced, and life expectancy significantly increased. The hospital has a great children ward, offers dental care and sight care to the community. It is mostly supported by present and past Gorilla Trekkers to the Park.
Visitors are welcome to come and see them most anytime – the hospital gives a glimpse of what healthcare can be like for rural Ugandans.